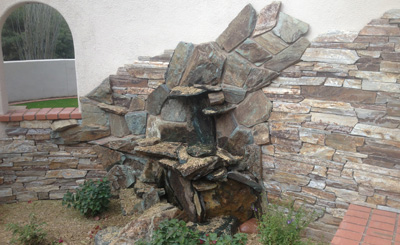 Hi, my name is James and I'm the proud owner of Southwest Patio Concepts!  Thank you for taking a moment to learn more about me and my business!
I'm a native of Tucson AZ and a 2nd generation mason. I was exposed at a very young age to various construction trades which include plumbing, electrical, carpentry, concrete, and of course all items that correspond with masonry – brick, block, flagstone, veneer stone, stucco…etc.
I became very intrigued with the endless possibilities the masonry field presented with rocks, blocks, bricks and stones of numerous shapes, sizes and color! The finished creations had potential to be works of art if given the patience of concise installation and attention to every detail.
I recall as a boy mixing mortar in a wheelbarrow in my parents backyard and practicing laying blocks and brick – all the while- thinking maybe one day, I can be as good a mason as my father. As the years passed, working side by side with my mentor, the diversity of my work began to take shape. Lines became straight, circles round, and the mixture of the two formed beautiful serpentine designs.
After working as a masons apprentice during my summer breaks of high school and the years to follow, I made the move to start my own company at the age of 25 and in the first few months became a bonded, insured and licensed contractor.
The 20 years since have been very rewarding and I have thoroughly enjoyed working with the people of Tucson and hopefully creating for them – what they would consider to be – their works of art!
Thank you to all who have helped me on this journey!
James Valdez
Southwest Patio Concepts